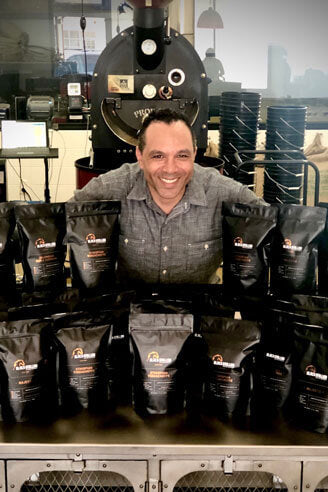 Coffee is an Experience that Connects Owner, Scott Johnson, TO His Past.
Early in his childhood, he remembers waking up to the smell of fresh brewed coffee. "I would walk into the kitchen to the sight of my parents enjoying their cups of coffee while reading the newspaper." Years later, in his early teens, he first learned to prepare coffee in a Mr. Coffee coffeemaker. Each time he opened a new can of coffee, his senses would be overrun by the aromas of the fresh grounds. The sound of the water seeping through the coffee then draining into the decanter reminded him of the fresh water creek that flowed next to his family home.
In 2012, Scott, while serving in the United States Marine Corp, was deployed to Eastern Europe. It was there, that he discovered the diversity and became reacquainted with his love for coffee. He ventured out to a local coffee shop with friends, where he noticed the patrons sipping espresso with a look of serenity and peace, as if they were experiencing a moment of tranquility. His curiosity got the best of him and he decided to order an espresso. His first sip, was filled with a whirlwind of emotions that reminded him of his youth. The smell was refreshing, exciting and awakened his senses like never before. This experience ignited Scott's belief in coffee and became the inspiration for Black Stallion Coffee Company.
– Founder of Black Stallion Coffee Company